Rural Americans are increasingly taking advantage of time-shifted viewing as DVR usage surges in 2023. According the the annual video consumer report commissioned by Innovative Systems and conducted independently by Pivot Research, 71% of rural Americans have Digital Video Recording (DVR) or the ability to record TV programs.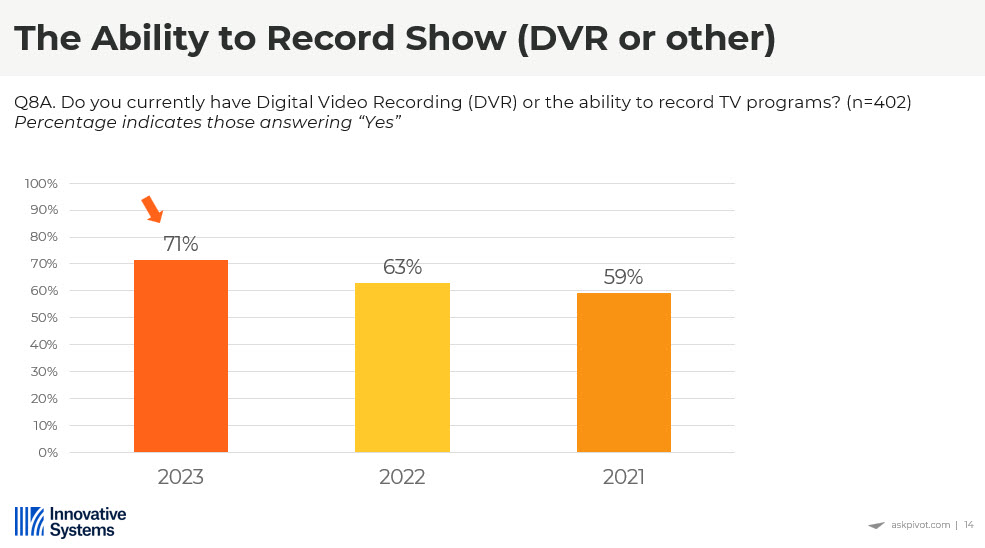 There was a jump in DVR customers at 8% over 2022, due in part to more and more providers offering a cloud DVR service which should be an opportunity to drive more profit per sub based on storage capacity and the fact that the cost of providing and supporting premise DVRs is no longer necessary. From 2021 to 2023 there has been a 12% increase in program recording functionality that is now in the hands of the rural consumers. One customer that is capitalizing on the revenue opportunity is WCTA in Lake Mills Iowa. According to Jayne Ringham, the company's Customer Service Manager, the upsell from Whole Home Cloud DVR helps them to be profitable in the video business.
Keep your finger on the pulse.