For USA Communications located about 15 minutes from Cedar Rapids in east central Iowa, local ad insertion on their video lineups couldn't have come at a better time. According to Curt Eldred, USA's General Manager, the ability to have ad insertion for political advertising revenue on their top rated "cable" channels is timely and a revenue needle mover for his company based out of Shellsburg Iowa.
InnoStream and ICAN are Key Players
USA Communications and other video operators are relying on the InnoStream platform to deliver the ad insertion, and ICAN Advertising to provide the sales and billing components. As a small video operator with roughly four thousand customers, Eldred says having the onsite hardware from Innovative and the sales and production team from ICAN allows USA to operate with a focus on serving their customers, and not having the added expense of advertising and production staff.
"We are using the InnoStream for Ad Insertion on both our IPTV and Live Streaming platforms."

Curt Eldred, GM, USA Communications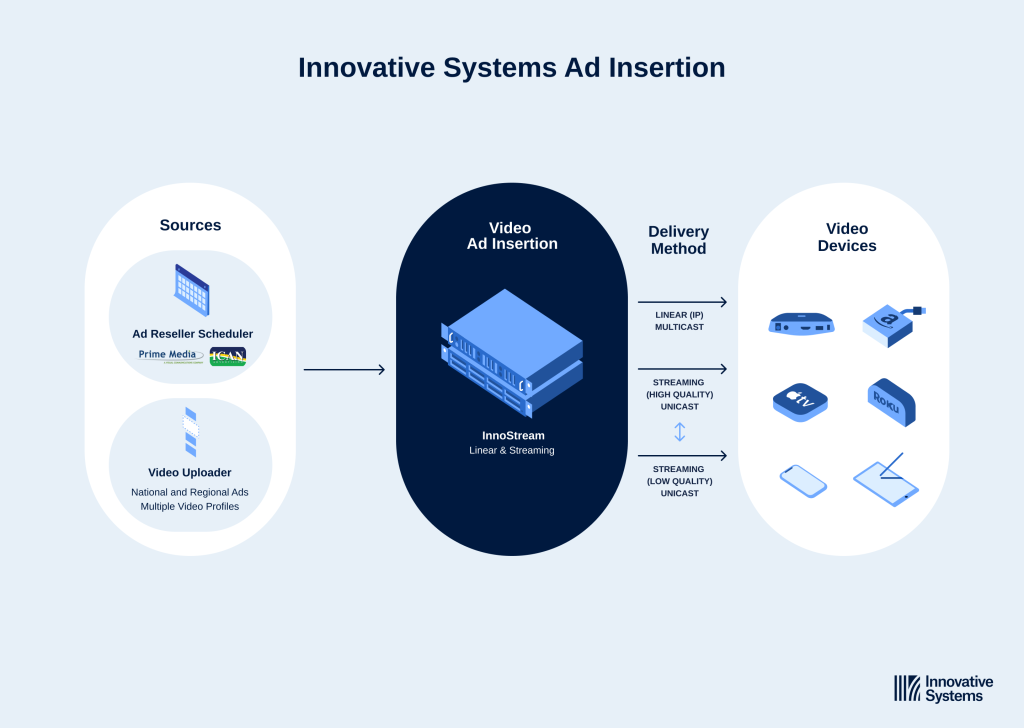 "The InnoStream is vendor homogenous when it comes to inserting ads over IPTV or Live Streaming which is a real differentiator for agencies like ICAN."

Tom Dimmer, Technology Director, ICAN Advertising
Tom Dimmer, Technology Director at ICAN Advertising says the collaboration between the Innovative engineers and the ICAN team really dialed in a process that allows video operators a turn-key solution. Dimmer says Innovative Systems provides the hardware and ICAN handles the operational management so the only thing the video operator has to do is cash the ad revenue checks.
Greg Goldammer, the Director of Video and Voice Support at Innovative Systems, says, "We have learned a lot from our relationship with agencies like ICAN, and how they can have secure transparency into the video operators InnoStream for the actual insertion and placement of advertisements. We have other ad placement agencies we are working with across the US to provide this same strategy to make it a simple solution for companies that don't have the dedicated resources to manage their own ad insertion."
Keep your finger on the pulse.