One would think that a video high school channel would not have a chance at being a ratings powerhouse, besting multimillion dollar cable TV shows, but it is happening in rural America. On a Friday night in September, the Parkston South Dakota High School football game that aired on the Santel Communications IPTV service soundly defeated HGTV, Food Network, History Channel, National Geographic, and many others in the 6-10pm viewing timeframe.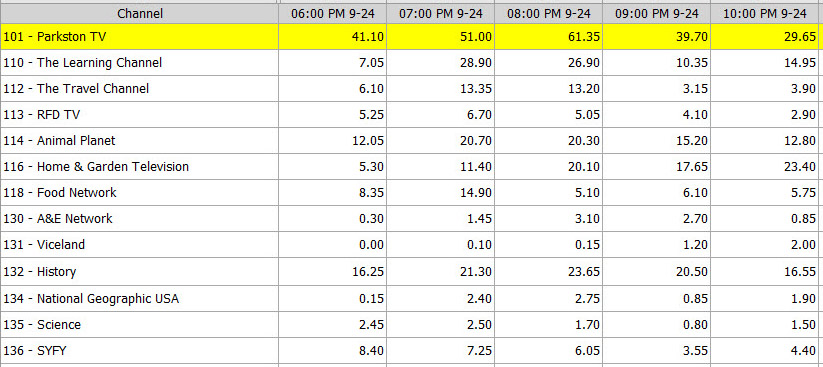 The channel stats reporting tabulates Set Top Boxes (STB) that are tuned to specific channels and reports the number of STBs that are tuned to channels on any given day and hour of the month. Since this is at the STB level, there could be any number of consumers in each home that are viewing these channels.
In an interview with Santel Communications General Manager Ryan Thompson, he credits the efforts of the school districts and their dedicated group of students. Santel has been providing access channels to area high schools for many years and according to Thompson, Santel's part in it is fairly low maintenance. Santel gets the program content info for the most popular events in advance so they can be populated into the program guide, but the students shoulder the responsibility of shooting, editing, and producing, as well as getting the feed delivered to Santel.
Santel, like most video operators, finds it challenging to compete against a streaming lineup of heavyweights that by themselves are less expensive, but having exclusive content from area high schools is compelling and some consumers are willing to pay more for it.
"I like watching school events and that keeps me as a customer of the Santel video service."

Sally – Santel Customer
Advice on Offering Local High Schools Channel Access
Thompson says that buy-in from school administrators and most importantly the students is the key to success. For example, students need to stay committed to delivering content that is being promoted in the program channel guide. Thompson says that if a scheduled program doesn't air according to the schedule, viewers will call and complain. At the end of the day if you are looking for a differentiator in video, local high school channels can deliver the numbers.
Keep your finger on the pulse.