NEXT Answers 10 Burning Broadband Questions
NEXT discusses everything from funding challenges, broadband marketing, and bringing service to those communities that need it most.
North East Arkansas is providing much needed service to underserved areas in Arkansas. Scott Hamby, Chief Operating Officer, and Cortney Varner, Director of Marketing & Business Development, sit down to discuss their rapid growth and how they are transforming lives in Arkansas. Supported by cooperative principles and a dedicated to their customers, NEXT activates between 400-500 customers every month, and they are just getting started.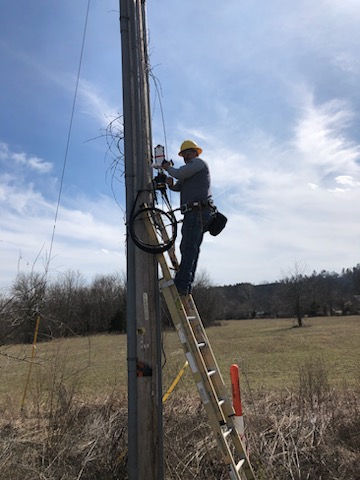 1. Tell us, who is NEXT?
Scott: NEXT is a wholly owned subsidiary of North Arkansas Electric Cooperative. We formed about five years ago. Up to this point, we have connected almost 17,500 subscribers. We're currently growing at a rate of 400- 500 a month. We provide internet, TV, and telephone to seven counties here in North Arkansas. We started off providing the Internet to our membership, of about 32,000 members. Our members wanted it because we're in a really underserved area. Now we're starting to look beyond our footprint to see if there's any areas that we might be able to grow into to expand and continue to serve this area. And like I say, it's vastly underserved, it is so rural. We look to be over 20,000 subscribers by the end of 2023.
3. Who are your customers?
Cortney: We live in an area that's very diverse and serve all demographics. We serve seven counties overall and have a lot of rural areas. Many customers don't have any other options for Internet, and they're very thankful that we're there. We live in a retirement community and see a largely retired population Our retired customers are not on computers as much, so they may want us for the TV or phone service. We offer all services as a convenience to the customer so they can pay everything with one bill.
4. How do your customers utilize the high-speed fiber you offer?
Cortney: People are definitely interested in high-speed internet; we see lots of streamers. There are lots of remote workers that want faster internet, especially in these rural areas. We'll talk to new customers and help get them signed up, usually they've just moved to the area, and they have nothing available. We've had gamers call in on their Xbox or PlayStation, and it has taken them, like 14 days to download something. And then once they get NEXT, it takes them two hours.
5. How do you handle competition? What differentiates NEXT?
Scott: We have technicians staged all around our footprint, and they're able to respond quickly and resolve quickly. Yes, we have the fastest speeds and the most reliable internet. But what we really have is the best customer service, that's how we can differentiate ourselves from everybody else's by providing that level of customer service.
Cortney: Our high-speed fiber internet still sets us apart and people are also very thankful that they can call into the office and actually talk to somebody here in town, or they can stop by and see us. As far as customer service goes, that is another tier where we set the bar a little bit higher, because we have somebody here available to talk to them.
6. How do you handle the rapid growth of 400-500 customers a month? How do you find and market to potential subscribers?
Scott: Going to Innovative Systems has really saved us at least one position, if not two in some ways. We've been able to move forward without hiring additional resources because we're more efficient. We have 17,500 subscribers with about 16 employees. On the marketing side we are utilizing large amounts of social media, targeted ads, we still utilize radio and print and billboards in our area to keep our name out there. We do a lot of community sponsorships, and any kind of community activities that we can.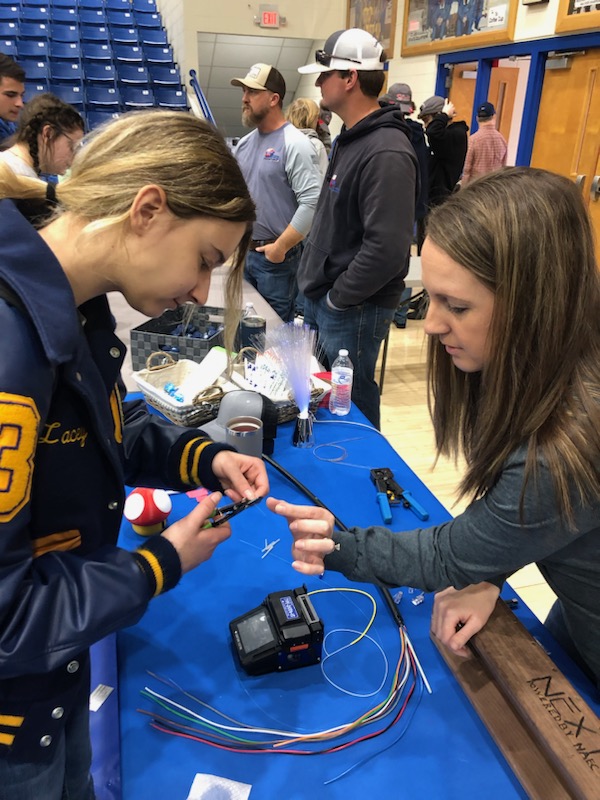 Cortney: We're trying to reach customers in all avenues. So anytime there's an event going on anywhere in our seven counties, we're typically there. Maybe it's our broadband technicians explaining the process of splicing fiber to junior high kids in Mountain Home. We explain how the internet gets to their home (FTTH = Fiber to the Home) all the way down to discussion of a single strand of glass inside the cable carrying internet to each home and how many customers can have internet through that one single strand of fiber (which is about 60 customers per fiber). Or maybe it's STEM fairs or career fairs where we are teaching kids about fiber internet and showing them how to splice fiber and assemble cat5 cables. We love to let them be hands on and try it themselves!
7. Everyone's talking about funding. Can you talk more about what you are looking for in expansion and what funding opportunities you have utilized.
Scott: For future builds and expansions right now, we look at take rates to see if there's enough interest in that area to be able to justify the build. Also, another big thing in today's world is the various government grants that are out there. We have been very fortunate and have won money in both the CAF and RDOF's to the tune of about $50 million. This is $135 million project, so that's just a piece of the pie. As we continue to look outside of our area, we are looking to see if there's any government funding available that would assist us in that build and make those areas more viable for us to build into because some of these areas you may only be talking about one or two subscribers per mile. It's very, very expensive to build out in there. But if we can find a little bit of grant money or something to help us along the way then certainly, we look forward to branching out and reaching those people that still need quality internet.
HUBB reporting and BDC reporting used to be so manual. I had to be the one that worked with engineering. Now with eLation, there are premade reports that you run for the dates. I could literally be done with the whole process in an hour now, it only takes minutes to pull what I need in the format I need it. It used to take me all week to compile the data.
8. How did you find a billing system? Can you walk us through the process of finding a software partner?
Scott: In a previous life I worked for a company that converted to Innovative Systems and it really improved our efficiencies and processes from beginning to end. When I got to NEXT, we realized we had to do something different. what we had wasn't cohesive to our business model. We want to be the best internet company there is and in order to do that, you also need the best back-office software there is.
We need to be efficient; we need to have the data all in one place. When a customer asks a question, we need to get that information to them quickly. Partnering with Innovative Systems and utilizing eLation puts all the customer data in one place. It speeds up the entire process from initial order to job completion.
9. Talk to us about how service looks. How do you and your team utilize technology?
Scott: We're utilizing Reach, Relay, and Technician Apps.
We utilize Reach heavily with our employees for everything from quick and easy timesheet entry. It allows me to approve timesheets on the fly, even when I'm off. No matter where I'm at, I can pop right on my iPhone or iPad and approve invoices or approve timesheets or time off.
We have quite a few in-home installers running around here, contractors who we've given access to the Relay app. They can login in the morning, they can see their jobs, they can close those jobs out when they're done. Of course, our NEXT technicians use the Relay App for quick access to trouble tickets in their queue. When they're done, they can close those out right from their smartphone or iPad. And then they if need, they flow right back into the CSR queues for billing. That really improves our efficiency.
The Technician App is super quick and easy to access customer information. And if you do a name, search count, search phone number search, you can find the customer any way you want. You have mobile access to diagnose a customer's devices or perform maintenance or even to change equipment or attributes, like a wireless SSID. You can pop right on there and update any information and it just flows right through. So that really, really is a time saver and it prevents a lot of phone calls back to the office.
10. Why do you do what you do?
Cortney: We do what we do for our members. Coops are very unique, we want everybody to have the best. We want our customers' quality of life to be better. The services we offer really make a big difference. In the rural areas we live in, if an elderly person needs to go to the doctor, they have to drive 50 miles to the doctor. With high-speed internet, now they can do telehealth visits. If our customers have good internet, and they're connected to the rest of the world, then they're able to do the things they want to do. When we're talking about education, a lot of people homeschool, lots of kids use the internet to get homework done.
We're keeping our whole community connected. We're here for our community, and we want it to be the best that it can be. In rural Arkansas, we want to keep everybody connected, and give them all the resources that they need. We want to keep rural America together.
Keep your finger on the pulse.