The InnoCoder T-40 is a scalable solution that will fit your needs now and in the future.
If you are in the live streaming business, bandwidths at the premise will vary greatly, this video transcoding and encoding solution will automatically adjust bit rates in order to maximize the customer's visual experience.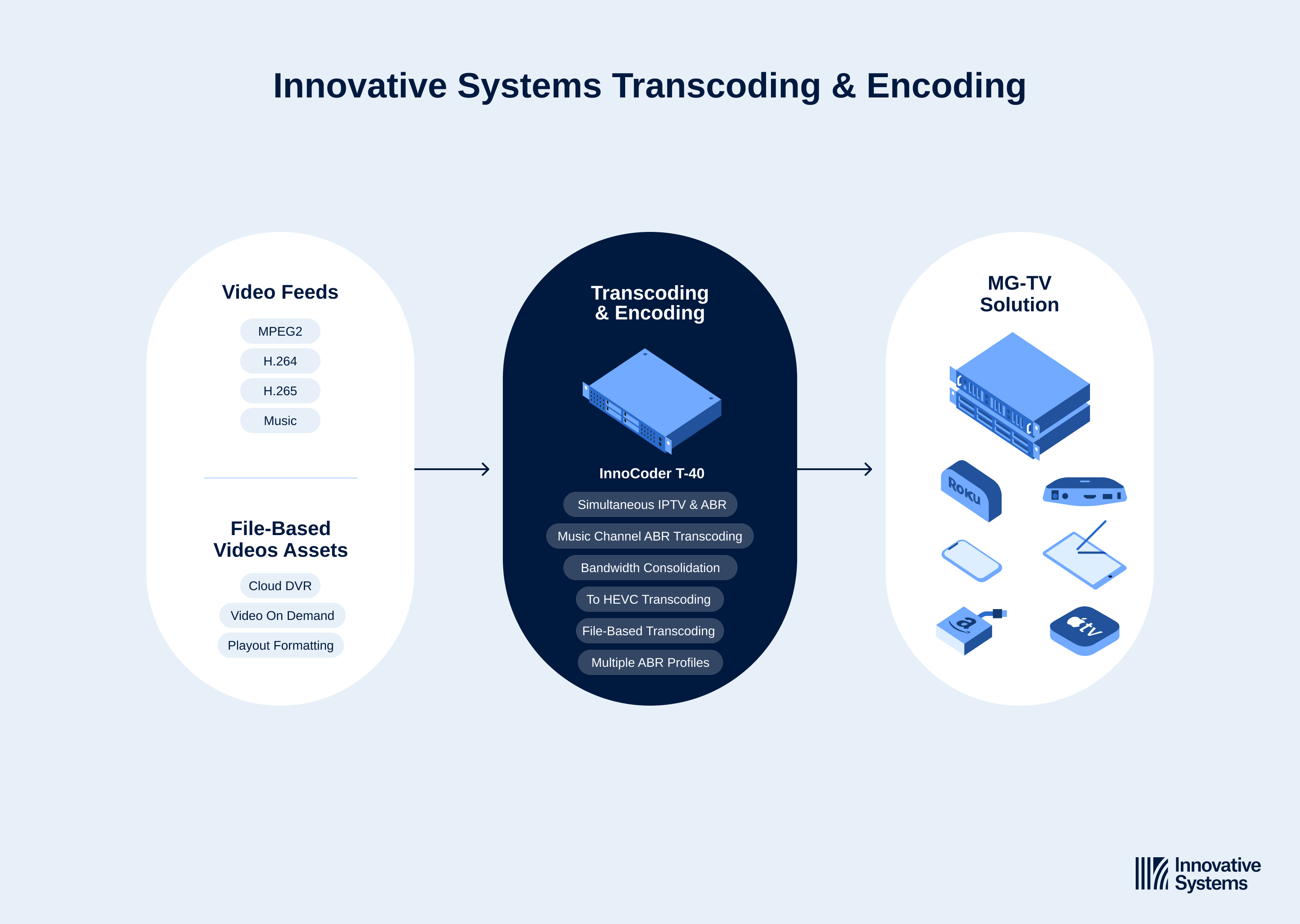 Our transcoding and encoding platform is designed to support all IPTV middleware and HLS platforms.

Specifications
Dimensions and Weight
Height: 3.5″ (89mm)
Width: 17.2″ (437mm)
Depth: 29.05″ (737.9mm)
Net Weight: 35.5 lbs (16.2 kg)
Gross Weight: 57.5 lbs (26.2 kg)

Network Connection
(4) SFP+ connectors
Default: (2) 1G copper, (2) 10G MMF
Other fiber/copper options available upon request.
Management
1000 Base-T Network Interface
Syslog Push Message forwarding through 3rd party
Audio
Source Audio Codecs: AC-3, EC-3, AAC, MPEG-1/2, Audio Layer I/II
Source Audio Channels: 7.1, 5.1, 2.0, 1.0
Output Audio Codec: AC-3, EC-3, AAC (ADTS & LATM), MPEG-1/2, Audio Layer I/II
Support for transcoding audio to AAC
Supports audio pass through
Output Channels: 2.0, 1.0
Video
Codecs: MPEG-2 and MPEG-4 AVC, HEVC 4:2:0
Input Resolutions & Frame Rates: 1920x1080i @ 30/25
1280x720p @ 60/50
720x576i @25
720x480i @30
704x480i @30
544x480i @30
528x480i @30
Output Resolutions
4:3 resolutions: 640×480, 480×360, 320×240
16:9 resolutions: 1920×1080, 1280×720, 640×360, 320×180
Note: Output aspect ratio must match input. All output is progressive scan.
Video Conversion and Transcoding
MPEG4<-->MPEG2 Transcoding VBR<-->CBR Video/cDVR Management
SCTE 35 AD Markers
Passed through if present in source
Applications
C-Band Reclamation
Cherry-Picker Replacement
MPEG2 Encoding
MPEG4 Encoding
HEVC Encoding
Music Channel Encoding