The importance of local tv access in the heartlands hit an all time high for the first time in the eight years since the start of the annual rural report on video usage. This study was conducted by Pivot, a leading telecom market research firm that has completed more than 1,000 research projects.
Using a 1-10 scale with 10 being very important and 1 being not important at all, over 400 respondents gave access to this programming a rating of 8.6. The study reveals that even 18-54 year-olds gave their highest score in the last three years for the importance of these channels that include ABC, CBS, FOX, NBC, and PBS.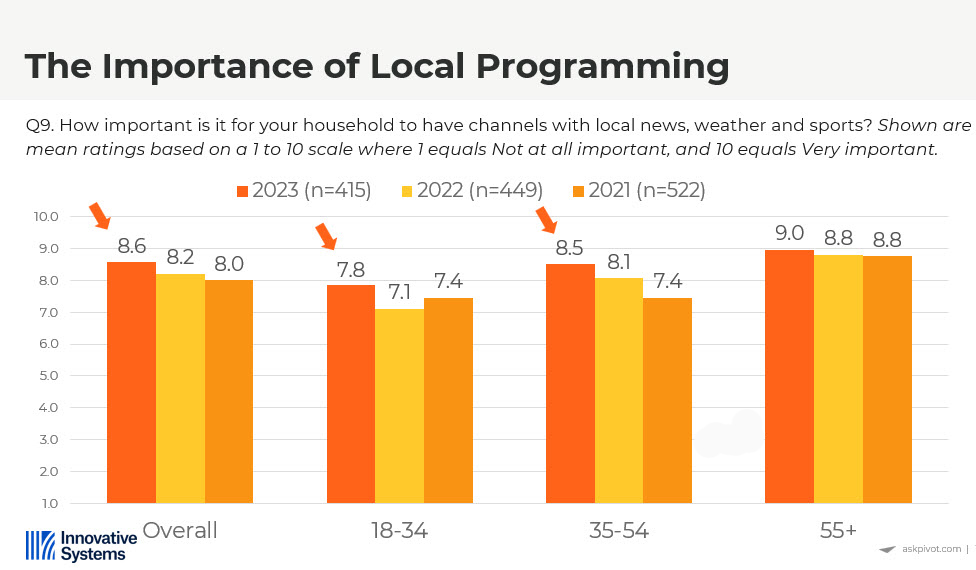 One takeaway from this data is that given the importance of local TV, rural Americans will make an effort to have access to these channels. This years report also shows that only 15% are using over the air antennas so that means they are looking to cable, satellite, or vMVPD (OTT) providers for their local channels. We see this as an ongoing trend that could likely cause rural consumers to look for the least expensive way to get local channels ,which is an advantage for those who offer local basic packages which YouTube TV, HULU LIve, and DirectTV Stream cannot offer.
Would you like a copy of the report?