On the Invoice
Full color graphics printed directly on your customer's statement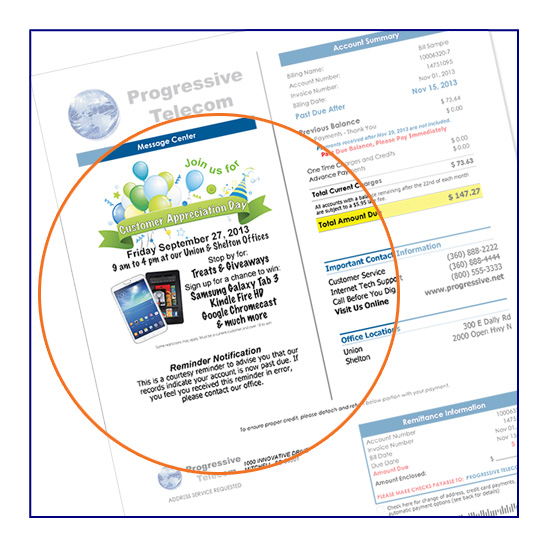 Intelligent and dynamic full color graphics to up-sell to existing customers. A color aging message that changes color tones with the lateness of the customer. Nearly unlimited CMYK process color options.
White Space Management
If there's room for a graphic, put it in. If not, leave it blank rather than producing another page.
Selective Onsert Targeting
Dynamic, full-color graphics printed directly onto the page gets your message across better than anything else.
In the Envelope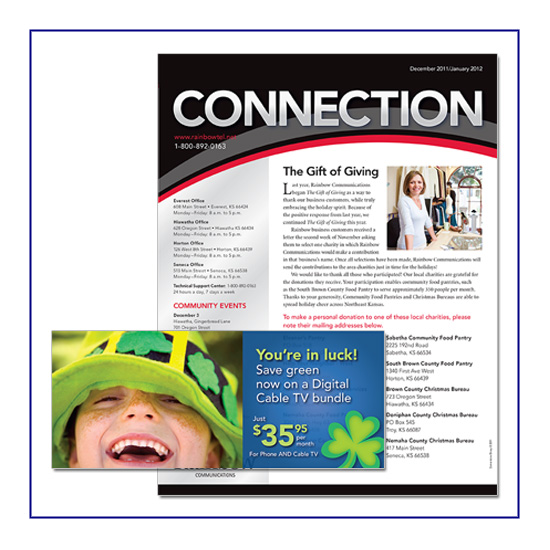 Press Quality Digital Inserts
We can print, cut, and fold inserts for stuffing into your statements. IS Print uses only premium, American-made paper products. Our high quality coated stocks are optimal for printing with bleeds, eliminating curl and toner show through. Additionally, our paper is brighter and thicker than most which will make your marketing efforts look their best! We have several other paper choices including different weights, gloss or matte, pastels, and neon brites.
Selective Insert Targeting
Targeting your inserts (stuffers) will help ensure the right message to the right customer, at the right time. To help you with that targeting, IS Print can insert up to seven targeted stuffers into the envelope plus your main document. Capabilities that are unmatched in the industry and available at your fingertips!
In-house graphic design and printing
IS Print can create your insert for you or print an already designed insert. We can fix most printing problems without you having to go back to your designer. Printing your insert here means you don't pay for shipping. They won't get lost in shipping, damaged, or delivered late. We are also able to quickly print more if your projected numbers were under actual need. We quickly and proactively react, so you don't have to.
On the Envelope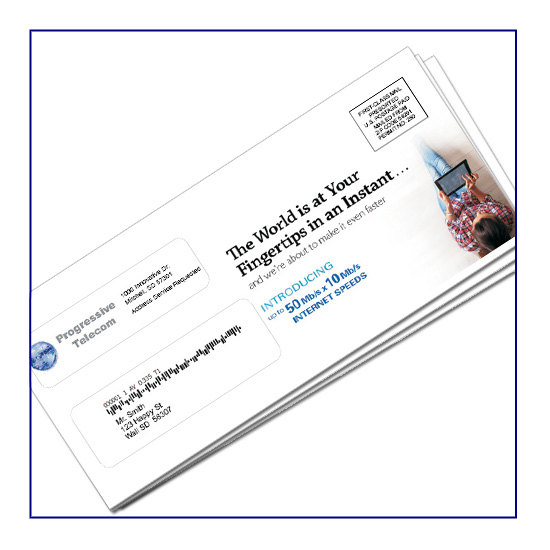 Full Color Envelope Printing
Set yourself apart from the competition. Full color pictures and messages on your billing envelope makes your company look even more professional. Full color printed envelopes stand out from the rest so your bill won't be missed. Best of all, this new technology allows us to offer you this service at prices that are surprisingly economical.
1000 Hwy 71 NE
Willmar, MN 56201

Email: printinfo@innovsys.com

Call (320) 262-3934