Announcing the 2023 Broadband Awards!
Our customers are focused on an excellent subscriber experience as they expand and help close the digital divide. They are true champions of their communities. We can't wait to celebrate the incredible things they've accomplished!
Please submit nominations to LindsayR@innovsys.com and include any relevant articles, images or information. The submission deadline is July 31st.
The awards presentation will be October 4th at eLation eLevate in Sioux Falls, South Dakota.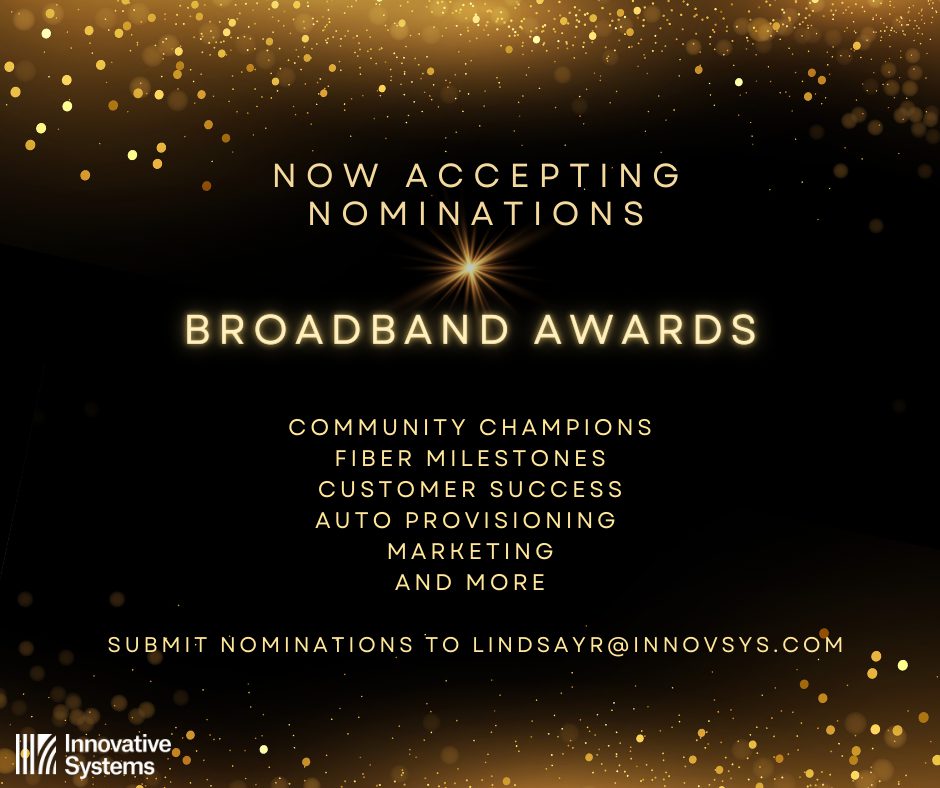 2023 Broadband Award Categories
Community Champions:
Is your company a hero in your community? We want to hear stories about how your organization has positively impacted your surrounding community. Let us know how your company is helping close the digital divide. How are you impacting digital equity and inclusion?
Fiber Milestones:
We want to celebrate your fiber achievements! Is your company celebrating fiberversaries? We want to hear about new fiber installs, years offering fiber broadband or reaching 100% fiber.
Auto Provisioning Wins:
Do you have a high percentage of orders that are auto provisioned? We are looking for big automation wins and want to hear about how your organization has enhanced their business with auto provisioning.
Customer Adoption Wins:
Do you have a high percentage of customers that have adopted autopay or electronic statements? How are your customers becoming more self-sufficient?
Customer Success Wins:
Do you have improvements with CSAT or NPS scores that you feel are significant? Are recent customer reviews noteworthy? How are your employees delighting customers?
Marketing Wins:
How are you separating yourself from the competition? How are you leveraging social media to improve your brand? How are you handling new product or service launches?
Custom Awards:
Have you had employee recruitment wins during this time of mass retirements? How is your organization celebrating employees and providing positive employee experiences? Are you offering new services to customers?
Please submit nominations to Lindsayr@innovsys.com by July 31st with details, articles, and any relevant photos. Winners will be announced at eLation eLevate October 4th, 2023