Despite assurances from Congress that the TRACED Act would start to put a dent in scam calls, data pulled from rural telephone landline providers proves otherwise. Innovative Systems has tabulated reports for 2020 from 25 voice providers with the TCM Call Screening Service deployed on 11,233 landlines, and those phone numbers received over 3.6 million suspected spam callers!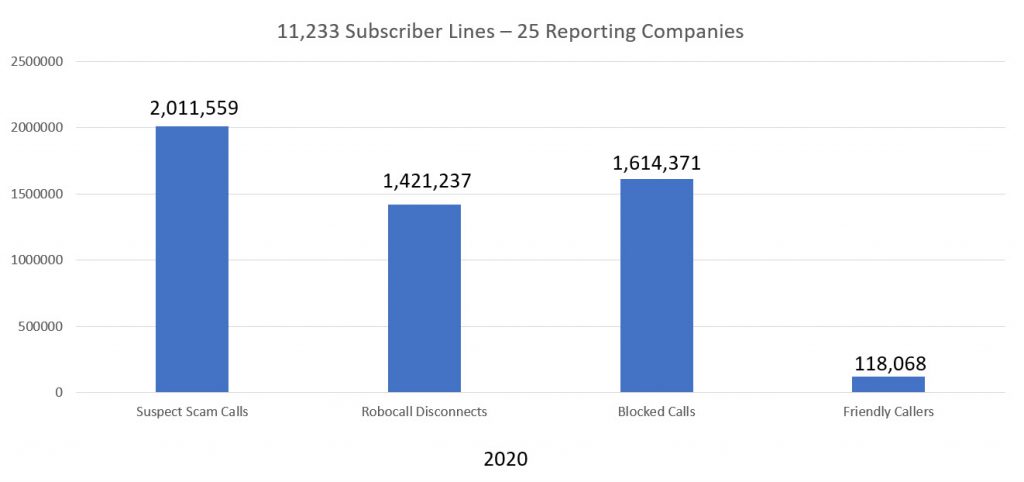 The granular reporting tool in TCM indicated that in 2020 over two million suspected spam calls received an announcement challenging them to press a dial-through digit to assure the call recipient they were calling for legitimate reasons, before the call would be completed. The report also indicated that over 1.4 million of these calls disconnected without completing the call. Since a robocall cannot respond to a challenge announcement, a timeout treatment in the TCM service will drop the call without ever ringing the customer's phone.
Other interesting data points detailed over 1.6 million calls that were automatically blocked from the TCM service blacklist provided by the FCC, as well as each service provider's locally-generated blacklist. The good news is that cumulatively these customers did not have to hear their phones ring over 3.6 million times. A total of 118,000 calls came from people that the TCM service subscribers wanted to talk to.
Just Do The Right Thing
In the meantime, there are hundreds of thousands of unused licenses of TCM in the rural networks that could be stopping your customers from being ripped off, like this elderly gentleman in Sioux Falls SD.
Keep your Finger on the Pulse