Give Your Customers Features That They Can't Live Without!
Remote DVR Control
Android Wireless Control of DVR and Channel Guide
DVR Subscriber Control from the APMAX Web Portal
iPad and iPhone App for Control of DVR and Channel Guide
Schedule Your Favorite Programs For Recording - From Anywhere!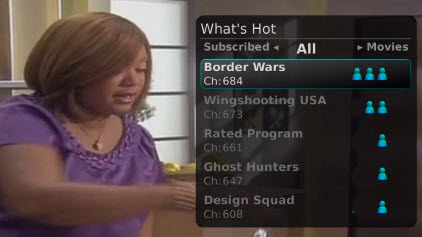 Differentiate With Features Like These:
Local Weather With APMAX WX Plus Option
Go Back in Time in the Guide
What's Hot App
Subscriber Can Resize the EPG
Whole Home Bandwidth Subscriber Management
Whole Home DVR
Extensive Parental Controls
Lock Channels
Hide Rated Programming
Pre-Set Watching Restrictions
Set Ratings Limit
Unique DVR Features
Multiple Folder Management
Slow-Mo that Great Play
Record Programs From the What's Hot App
Now Playing Popup Displays What You're Watching and What's Being Recorded
Blended Telephony Features
Screen Pop Caller ID
On Screen Voicemail Waiting Indicator
On Screen Recent Calls List
Text of Voice Messages On Screen (with APMAX Unified Messaging)
Click to Call
Voice Mail on TV....Watch This Video
Whole Home Subscriber Bandwidth Management........Watch This Video
Need More Information?
For more information about IPTV, call 605.995.6120 or email us.