No extra hardware or software is needed to quickly address customer service questions or issues.
Virtual Remote™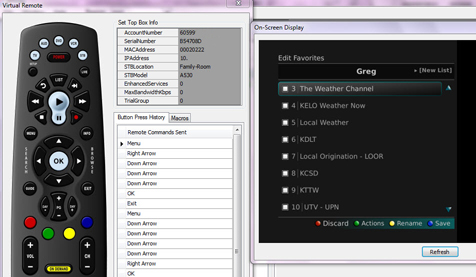 Achieve customer satisfaction by resolving their issue during their initial call
CSR's can take over customers remote control from the service center
Walk customers through a problem or program guide question without a service call
Integrated with APMAX Middleware - No extra hardware or software
Reduces truck rolls
Saves everyone time and money
User Interface Report Writer

With a couple of mouse clicks, the flexible report writing tool can quickly gather important subscriber information
A fully integrated subscriber management system
Improve adminstrative efficiency
Admin Menu

STB Diagnostic Tools
Bandwidth Tester
Technician can access on site
One Vendor - One Support Group

Deployed on redundant, carrier-grade hardware with built-in web servers - the APMAX
All upgrades, updates and support from Innovative Systems
Extensive Testing Procedures with an in-house Central Office and Video Headend
See the Virtual Remote™ in this video!

Clarence Telco GM,"APMAX Middleware Deployment is Straightforward"......Video

Need More Information?
For more information about IPTV, call 605.995.6120 or email us.