Provide a valuable service AND promote your brand. Weather Plus service allows carriers to provide real-time weather information via a wireline phone, wireless phone and on TV through Innovative Systems IPTV Middleware.

The service is simple for callers to use. They simply dial the weather telephone number and the services voices the current weather conditions along with any promotional messages you may have configured to play either before or after the weather information. If needed, you can provide weather information for multiple exchanges where the conditions might vary from one location to another.
Depending upon your use of the optional Davis Weather Station or a NOAA XML feed, Weather Plus can provide weather information including:
Temperature *
Relative Humidity *
Wind Chill
Dew point
UV Index **
Daily precipitation *
Wind Direction *, Speed * and Gust
Barometric Pressure & Trend
Heat Index **
Use the time, date, and temperature information along with other services such as Voice Mail.
* Default Announcements. ** Requires Davis Vantage Pro 2 PLUS equipment.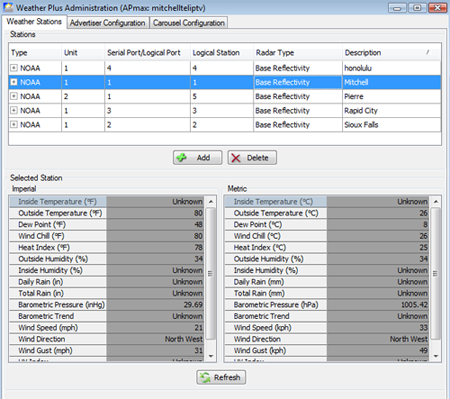 Weather Station Data Options
You can provide weather data using Davis Weather Pro 2 Plus equipment. Or, you can retrieve weather data from NOAA XML feeds. Weather Plus can retrieve conditions for the configured NOAA weather station and stores the results in memory for access by the caller. If you are able to access the NOAA feeds, this eliminates the need to purchase additional weather monitoring equipment. It is also possible to offer weather information for multiple locations using a combination of NOAA feeds and weather monitoring equipment.

Announcement Insert Capability
Up to ten announcements can be rotated before and/or after the weather announcement. These promotional announcements can be easily recorded over the phone with a dial-in administration number.
Integrates with APMAX Middleware via Weather App
Weather Plus in conjunction with Innovative Systems IPTV Middleware allows various local weather options on a subscribers television. You can view the current weather conditions, a five-day forecast and even a radar image on the TV!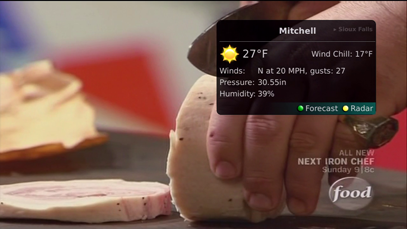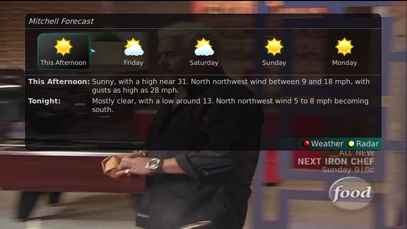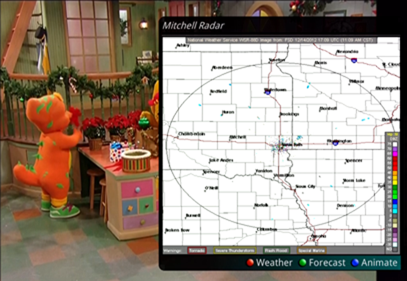 Need More Information?
For more information about APMAX™, call 605.995.6120 or email us.