Your subscribers can use Single Number Service to turn their landline phone into a mobile personal assistant. Single Number Service offers functionality that will better anchor your customers to their wireline service combining the mobility of your customer's wireless service with the reliability of your landline service.
Law Enforcement Agency is Using Single Number Service - Find Out More!


Landline Service Becomes A Telecommunications Hub
Your customer's existing wireline service can be used to ring up to nine phone numbers simultaneously or in sequence so that they can take calls no matter where they are. The service is easy to administer and there is no need for the subscriber to change their telephone number.
Unique Transfer Feature
The greatest advancement in the APMAX Single Number Service is the ability to transfer a call that is already in process to another phone. For example, you have just taken a call on your landline as you need to leave the building. But, you need to finish your conversation. With Single Number Service, simply press *1 (* code is dependant on configuration) to transfer the call to your wireless phone and you are free to go.
Intelligent Service
The Single Number Service can be set to alert the caller that it is attempting to locate the subscriber by announcing "Attempting to locate (name here). Please stay on the line."
The service also offers optional call verification so when a call is answered, Single Number Service announces "I have a call for (name here*). If that person is available at this number, press '1'. Otherwise, hang up." In traditional simultaneous ring services, the service stops looking for the subscriber as soon as one of the lines is answered - which is not as effective. It is also possible to configure the service to operate only during specific times of the day.
*For the subscriber's name to play, their name must be recorded in the APMAX Unified Messaging service. If the Single Number Service subscriber is NOT an APMAX Unified Messaging subscriber, then the service will play 'Single Number Subscriber' in place of the name.
Online Subscriber Management
Manageable by phone or by using the optional Web Portal, with a single mouse click from the Web Portal, subscribers can activate or deactivate specific numbers from the hunt sequence without losing all the data associated with number.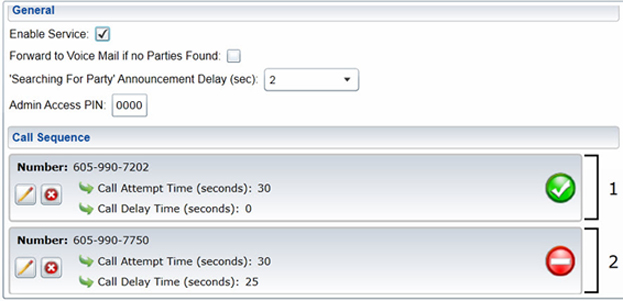 Need More Information?
For more information about APMAX™, call 605.995.6120 or email us.