Connect all of your emergency responders quickly the instant a call is received.
The Way it Works
When a call is placed to the designated emergency response number the call is routed to the APMAX and activates the Firebar Service. As soon as a responder answers the call, he is immediately conferenced into the Firebar call. The conference remains in progress until everyone leaves the call.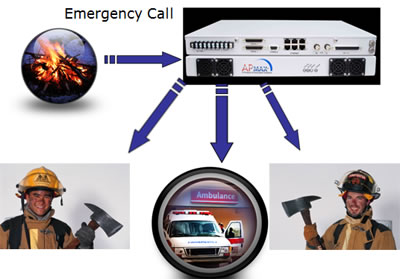 Fully Redundant System
Failure is not an option with this type of service and the APMAX includes standard redundancy with no additional hardware or server purchase required.
Capacity
The APMAX provides ample scalability with Firebar supporting up to 64 Firebars, with up to 128 responder DNs per conference and a maximum of 256 responder DNs in simultaneous conferences.
Recording Capability
Firebar can be configured to record calls initiated through the service. This recording in a .wav file can be e-mailed or retrieved from the APMAX by the service provider.


Firebar Report Generator
The Firebar Service can automatically generate important Firebar details and then e-mail the reports to Emergency Responders. Log files are available showing the participant activity and color coded reporting on who responded to the firebar call.

Need More Information?
For more information about APMAX™, call 605.995.6120 or email us.