Use the Conference Calling service internally or sell it to other companies who have been forced to reduce travel expenses. APMAX Conference Calling is efficient, economical, and adds terminating minutes to your bottom line! APMAX allows simple conference administration, security features and accurate billing measures.
The APMAX can be licensed for up to 450 ports of Conferencing Calling. A maximum of 225 attendees may be in the same conference.
Basic Conference Calling
For companies interested in the most simplistic, yet very secure form of Conference Calling, Innovative Systems offers Basic Conference Calling.
Callers dial a designated number.
Callers enter a unique 5-digit number that they agree upon ahead of time.
Conference proceeds until the last caller disconnects.
Once Basic Conference Calling is deployed on your APMAX, there is really nothing else that your company must do except advertise the access number.
On-Demand Conference Calling
Key Conference Calling Features
Conference Recording
Quiet Mode (no entrance/exit beeps)
Web Portal Integration
450 Port Capacity
Max 225 Attendees per Conference
With On-Demand Conference Calling, subscribers hold a conference account with your company. Once that relationship is established, they conduct conferences as needed without reservations. You can bill for the service with any combination of per-conference charges, attendee charges, direct dial minute rates, and toll free minute rates. They system will also generate EMI or XML billing records if you desire.


Online Conference Management
Dashboard for Attendee Management
Subscribers can use the Web Portal option to manage On-Demand conference calls as they are taking place. See who is talking, mute/unmute callers, adjust caller volume, remove callers from the conference. The record option allows your company added revenue potential for subscribers needing a accurate record of conversations during their conference calls.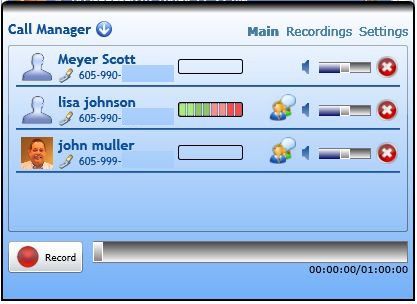 Need More Information?
For more information about APMAX™, call 605.995.6120 or email us.