Offer access to real time weather conditions 24/7 to help build your image. And, use customized announements before and after the weather information for a built-in advertising platform to promote your Telco brand or sell to other businesses.
Temperature *
Relative Humidity *
Wind Chill
Dewpoint
UV Index **
Daily precipitation *
Wind Direction *, Speed * and Gust
Barometric Pressure & Trend
Heat Index **
Use the time, date, and temperature information along with other services such as Voice Mail.
* Default Announcements. ** Requires Davis Vantage Pro 2 PLUS equipment.
Record Promotional Messages Over the Phone:
Promotional messages can be added either before or after the weather announcement. By customizing the announcements, you have the opportunity to advertise specific services to your customers or sell the announcement space to local businesses.Listen to a sample announcement.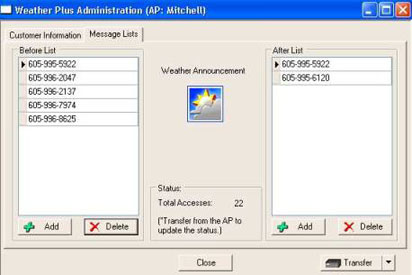 APAC allows for multiple announcements before and after the weather info.
Suggested Business Sales Opportunities.
The metered announcement feature makes is easy to sell Weather advertising to multiple businesses or to sell an exclusive sponsorship to one company. Consider approaching a local car dealership so that they could advertise their 'deal of the day'. Medical or educational institutions may also be good candidates.