"I like the fact that I can listen to and delete my voice messages without ever picking up my phone!" One of many quotes regarding Voice Mail from Innovative Systems.
It is important that your company's Voice Mail service meets the demanding needs of today's highly mobile telephone customer. Innovative Systems enhanced Voice Mail service is designed for the customer with multiple mailboxes and internet access.With over 400 systems in service, it is the most widely deployed Voice Mail service in the IOC market.
For a detailed listing of Voice Mail features, view the Voice Mail Product Sheet.
Unified Voice Messaging Features:
e-forward
e-Forward allows customers to retrieve and play voice messages from their e-Mail. (Requires ISIA)
Phone Central
Phone Central, a PC application, allows customers to manage their voice messages and their personal Voice Mail settings right from their desktop.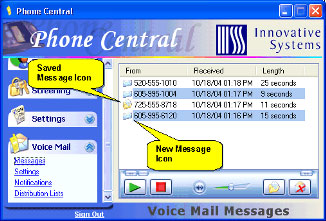 Download Video Now. (Requires ISIA. Some features require AP Software Release 5.1 and VM04)
ManageMyPhone
The website ManageMyPhone.com provides customers, especially those who frequently travel the ability to play their voice messages and manage their Voice Mail settings over the Web. (Requires ISIA)
Compatible
The AP System interfaces with all of the major current and next generation switches in a cost-effective and easy to manage system. We are committed to compatibility testing and have an in-house lab with captive switches where we perform thorough testing to be certain the Voice Mail service will work with your switch.
Scalable & Reliable
Voice Mail on the AP provides a central office grade platform providing up to 196 ports and as much as 4,000 hours of redundant storage (with VM04 and AP Hardware Rev 3.0). The Voice Mail system is scaleable to fit your company allowing you to begin with as few as 100 mailboxes and add licenses as you need them.
Marketing Support
Innovative Systems provides marketing materials including a user guide at no extra cost.