Political surveys, non profit organizations, and automated message calls are all still getting through to your customers. Terminating Call Manager it is an intelligent Call Screening service that blocks unwanted calls and at the same time learns who your friends are so that their calls complete without interference.
When telemarketers do call, they hear the announcement "The number you have reached does not accept calls from Telemarketers. If you are a Telemarketer, please add this number to your Do Not Call list and hang up now. Otherwise, please press '1' or stay on the line." The majority of Telemarketers use predictive dialers and automatically disconnect during the announcement without connecting to the customer. Regular long distance callers will hear the announcement the first time they call and then the service 'learns' that they are an accepted caller. If the subscriber decides they don't want a particular number to phone them again, they can dial a feature code after completing the call and the number will be automatically added into their blocked number list and further calls from that number will not be allowed
Customer Controlled Call Blocking
If desired, customers can maintain their blocked call list from their PC and make real time changes with the Phone Central application. ISIA Required.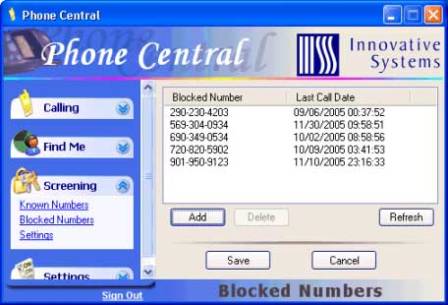 Local and Long Distance Number Recognition
Terminating Call Manager recognizes local wire line and wireless NPA-NXXs and allows those calls to complete without intercepting them.
Valuable Branding Option
Innovative Systems will place your logo in the Phone Central application for brand recognition at no extra cost.