Scheduled Conference Calling allows your subscribers to request and reserve ports for their upcoming conference call.
Once a subscriber is set up for conference service and any billing rates have been established, they can use ManageMyPhone.com to schedule calls, notify attendees of call details and more. Once the call is in progress, the subscriber can use the online tools to manage the call (mute/unmute callers, add callers, etc.). After initial setup, there is little that the Telco staff will need to do.
Customers Can Schedule a Conference Call Online... Download Video Now...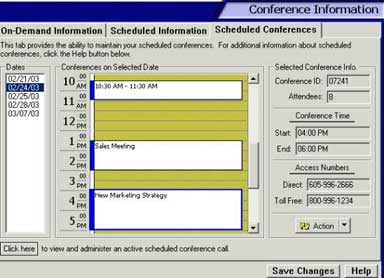 Customers Can Administer a Conference Call Online... Download Video Now...
Attendees are joined into a conference when the conference administrator calls in to the conference, thus ensuring privacy and security for the participants. From the initial setup to the management of the meeting as it is in progress, Scheduled Conference Calling provides the user full control of their conference experience.
Billing Options
The Scheduled Conference Calling Service can calculate charges for a conference call based on any combination of these items:
Per-Conference Charge
Reserved Attendee Charge
Direct Dial Minute Rate
Toll Free Minute Rate
Out Dial Minute Rate