Because the internet has become such an integral part of people's lives it makes good sense to give your telephone customers Internet control for their services.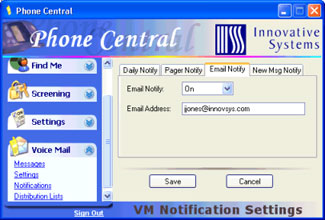 Real Time Configuration From Your Customer's PC

Voice Mail, Voice to E-mail (e-forward), and Find Me (one number) are a few of the services that can be controlled from the subscriber's PC with the Phone Central applicaton when you deploy Innovative Systems Internet Access (ISIA). ISIA also allows your customers online access at ManageMyPhone.com.
Security
Communication between the Service Provider and Service Bureau is via encrypted HTTP using a symmetric-key algorithm with a key size of 40 bits or greater. Additional security is available using SSL, if desired.
Promote Your Brand with ISIA
Services such as Phone Central and Voicemail to e-mail notification give you the opportunity to brand the services with your logo. Innovative Systems will brand Phone Central and ManageMyPhone with your logo at no cost to you. We can even assist with customizing voice mail to e-mail notification pages so you can enforce your brand with every voice mail that is left on the system.
Services Using ISIA
Account Code Plus
Automated Attendant
Conference Calling
Find Me
Originating Call Management
Phone Central Caller ID
Terminating Call Manager
Voice Mail
Voice Mail to E-mail