One Platform…Multiple Services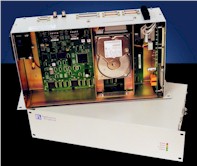 An AP System consists of a pair of units that provide the redundancy necessary for telecommunication applications. The AP implements a Service Control Point (SCP) in the SS7 network and meets North America PSTN industry standards for operations and reliability. A single PC running Application Peripheral Administration Center (APAC) software is used to administer, monitor and maintain the AP System.
Small Footprint:
Rack-Mountable 2-Unit Device Measuring 9" by 19" by 10" deep
Low Power Demands
Draws Approximately 1 Amp from Dual Power Feeds
The AP System Includes:
Eight DS-1 Communication Channels (with Rev 3.0 Hardware)
The T1 trunks can be used to provide announcements for interactive voice response (IVR) services such as Voice Mail. The T1 connections provide a maximum of 192 voice channels per AP system.
Four RS-449,V.35 or DS-0 (on DS-1)
SS7 Ports provide standard communication protocol for telecommunication applications.
Eight RS-232 Channels
The RS-232 ports are used for maintenance reporting and control and Operations Measurement (OPM) reporting. Normally, one of these ports is connected to a networked PC for monitoring and control purposes.
Twelve Ethernet Channels
Two Ethernet channels per unit are used for inter-unit communication to provide extremely high reliability (redundant system). The other Ethernet channels can be used for a high-speed interface to LAN or WAN for monitoring and control, and web-based services.
24 Hour Technical Support
Online Documentation